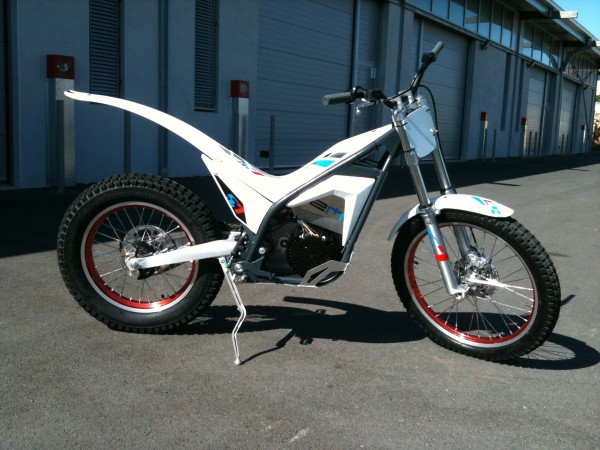 Electric Motion EM 5.7
It looks like Gas Gas is not the only manufacturer looking at Trials riders as a good market for electric motorcycles. Philippe Aresten, the president of Scorpa from 2001 to 2007, started Montpellier, France based Electric Motion and plans to bring the EM 5.7 to market.
Watching the video below of Christophe Bruand riding a skate park in Montpillier, clearing 4′ plus obstacles and trail riding on the EM 5.7, makes me want an electric trials bike more than ever. Philippe and Electric Motion are betting I'm not the only one.
The EM 5.7 rolling chassis is designed and produced by Electric Motion. The styling of the bike is by Oliver Besson. Brice Martin engineered the electric drive system which uses an electric motor developed to EM's specifications running at 48 Volts. The battery pack is built with 25 Ah of Kokam Lithium Polymer cells.
Philippe Aresten obviously is not new to the motorcycle industry but he is also not new to electric drive. He started SEV while leading Scorpa. SEV developed and sold the eTricks electric trials bike before Scorpa declared bankruptcy and was purchased by Sherco. SEV lives on but I believe the bank owns it. Not Sherco. Philippe then left to start Electric Motion, a company that he himself owns.
Read More and see the video after the break…
During his decade of experience in powersports Philippe built a very strong relationship with Yamaha as they were the supplier of the Scorpa gas engines. No doubt he has similar relationships with other suppliers.

Add to that Mr. Aresten's experience at Scorpa building bikes like the Long Ride and T-Ride will help him break new ground in the world of motorcycles. Most new and experienced motorcycle riders will likely want to sit down for parts of the ride. Electric Motion has 3 other models in development. I think an electric motorcycle designed and marketed as a fun to ride, stealthy trail bike is a great idea. Let's hope KTM Freeride E gets some competition from Electric Motion.
And no, this is not a one of a kind prototype. EM has a fleet of EM 5.7′s. Electric Motion does not have a website yet so sorry, no linky.
Philippe and Christophe will be at the Endurocross in Vegas this weekend. Be sure to checkout Christophe's show.
Electric Motion EM 5.7 Electric Trials Bike | Christophe Bruand Ride Video ©, .

Go to Source