Sherco SE Electric Enduro – Image credit: www.SoloEnduro.it
Last week was a great week for electric motorcycle enthusiasts. We saw an impressive stream of electrified motorcycle pictures coming from EICMA and the Honda RCE teasers. However, you had to have your eyes on the European moto blogs to pick up on the Sherco SE Electric enduro.
Now the EVOLT BULL1 may ring a bell for those watching this space for the last few years. Domenick Yoney wrote about the LiPo celled electric dirtbike back in July 2009. Well, it looks like Sherco saw them too and acquired the BULL1 technology.
It seems Sherco then worked with Evolt to develop and convert a Sherco 250 SE to electric.  This means the standard gas bike suspension and terrain stomping 21″ front and 18″ rear wheel. Oh, and unfortunately the excessive weight that comes with it.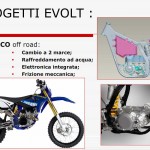 There is no word on how the bike performs but Sherco / EVOLT put together a "fully integrated" electric drive system with 8.8 kWh 2.2 kWh of Kokam LiPo cells, a 2 speed gear box with clutch to get the knobbies churning dirt while 144 Volts and liquid cooling keep the motor from burning up.
Yes, LiPo. It seems they took the light weight, less traveled route of EV battery chemistry that is  gaining popularity with ebike homebrewers for its higher energy density over the usual LiFePO4 cells.
Yes, 2 speed transmission. The bike has a hydraulic clutch and a low and high speed selection.
I did not see any details for the motor but it seems it is liquid cooled. You can see in the picture below a water pump that pushes water through a single conventional radiator and down into the motor housing. There also appears to be some sort of reduction between the clutch and the motor. Sherco claims 35 HP but I'm not sure if this is peak HP or if its rear wheel HP or what.
The end result is an electric drive system that looks similar in packaging to the KTM Freeride E.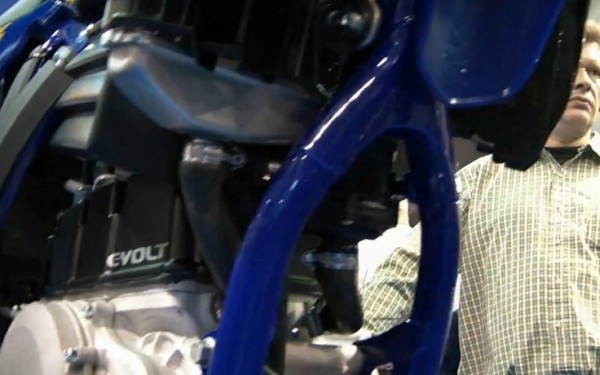 Sherco claims its electric drive system will give the ebike rider up to 40 minutes of MX riding and more for more leisurely trail riding. The total package weighs less than 220 pounds which keeps it about 6 pounds shy of a Sherco 250 SE just after flip
At $12,240 it's on the high end of the price spectrum. Sherco has not committed to adding this electric enduro to its product line. For now it seems they will be on the sidelines next to Honda waiting to see how this crazy electric motorcycle thing pans.
Source: Moto Station via: Moto Elettriche
Sherco SE Electric Enduro At EICMA 2011 ©, .

Go to Source