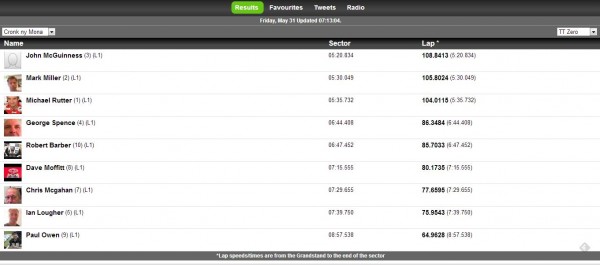 I figure the 2013 TT Zero is as good a time as any to knock the dust of PlugBike.com. I've been following the build up to this year's TT Zero as much as possible over the blogs, FB, twitter, etc. Looks like another great race is coming up and more frustration trying to watch it virtually. But that is half the fun right? 😀
Anyway, I wrote about ways to watch the TT Zero in the past. Here are a few new way to watch the TT Zero this year…
1) IOMTT Race Cams – Nice real time shots of the TT Course. (thanks for link Harry)
2) Download the IOMTT app. Go to iTunes App Store and search for "Isle Of Man TT". Download the app. They also have an Android app. (Thank you google for making this linkable.)
But really, for watching as live as possible when you live in the states, nothing beats TT Live.
As always, follow the #ttzero has tag on twitter and be sure to friend Amadeus Photography on FB and twitter since Frank has been posting pics of the leccy TT since the year zero TTXGP.
Once the racing is over there will be plenty of action on the forums from eRace fans posting pics and their take. If you friend me on Facebook I will "like" anything on two wheels that runs on electric… or gas …or muscle. By following me you will find other folks doing some great work blogging and podcasting about electric.
Switching gears here, I have not seen an official TT Zero entry list for 2013. However, here are the entries this year which I took from Manufacturing Digital…
MANTTX Racing – Isle of Man
Ecotricity Kingston – London, UK
MotoCzysz – Oregon, USA (2 entries)(on Twitter)
Komatti – Mirai Racing – Isle of Man/Japan
Brunel TT Zero Race Team – London, UK
Imperial College London – London, UK
Buckeye Electric Motorcycle Race Team – Ohio State University, USA (See Rob Barber's site / blog for some updates)
Vercarmoto Racing – Italy (follow on FB)
Sarolea – Belgium
Team MUGEN – Japan/UK (on FB
Zytek Kawasaki – UK
Also, see the teams that qualified on day one of the TT Zero. Some of these teams are featured in this youtube video. Cool to see Burnel's Dr. Koen Matthys talking as he is a repeat entry in the TT Zero. Also David Craine of MANTTX reflects on how the perception of his team has changed since they started racing electric on the mountain course.
How are you "watching" the TT Zero and IOMTT? Please leave a comment and let us know. I think we should all pack up and go next year. 😀
How Can I Watch The 2013 Isle Of Man TT Zero? ©, .

Go to Source